The Singapore Property Market doesn't seem to let up in 2021 following the "Circuit Breaker Lockdown" in 2020. Nevertheless, with the emergence of the new COVID-19 Delta variant earlier this year, which eventually led to a spike in community cases since late April 2021 sure put a slight damper in the property market. However, Singapore property had remained mostly resilient.
What is the Outlook for 2022 & Beyond?
With the ever evolving COVID-19 landscape with opening/closing of borders, along with current pandemic-induced constraints such as labour shortage, need for space,, low interest, etc, it's not unexpected that these factors are driving up home prices.
Say the Omicron variant gets reined in.. Restrictions ease, and borders open? What will happen to home prices in the future?
There is a clear trend that property prices are rising—and not just in the private market. HDB resale prices have also recorded significant growth despite the pandemic and economic uncertainty. However, it seems that the SG Government will not be intervening yet as they "do not think the market is overheated". This is great news for those who were worried after multiple warning shots were fired earlier this year, hinting at the possibility of tighter property curbs.
Private home prices have been rising steadily since 2017, and showing no signs of slowing down. The outlook looks robust and demonstrates sustainable uptrend.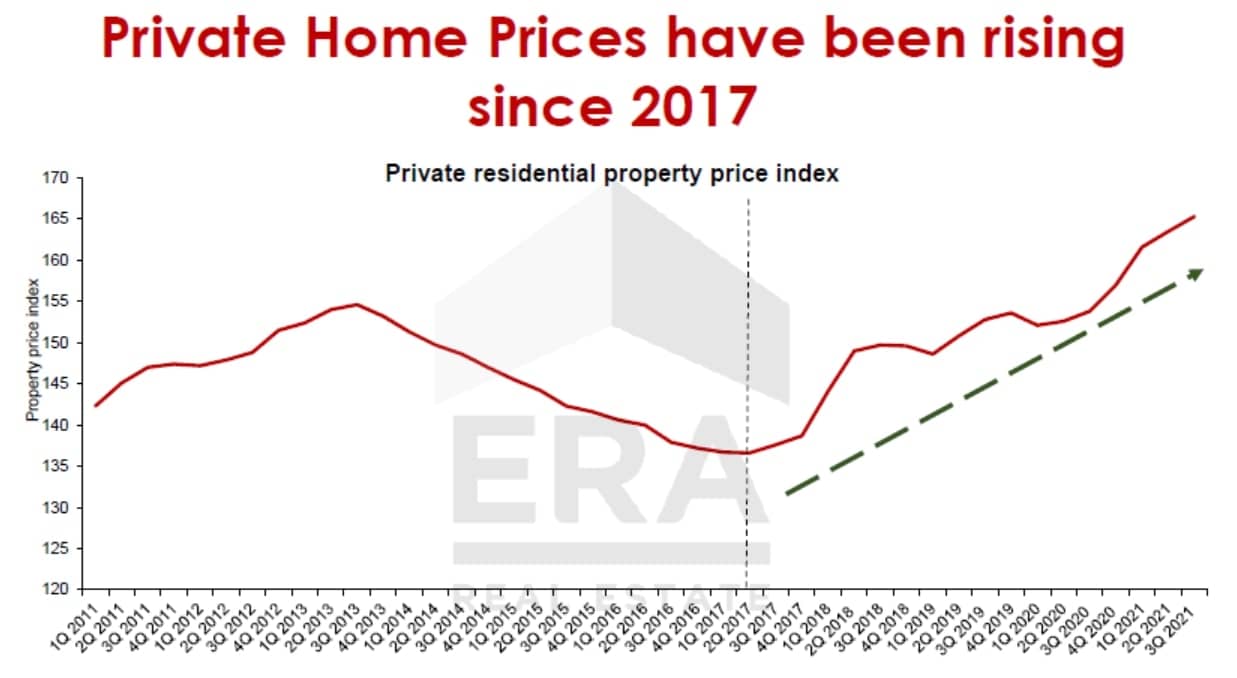 There are strong signs and fundamentals for uptrend of private property prices in 2022 & beyond. Buyers are spending more on private property. While the biggest proportion of transactions (34.2%) are in the $1 million to $1.5 million price range, there was an increase in the number of transactions (27.5%) above $2 million. This increase could be attributed to buyers preferring larger properties, and more new projects launching in pricier regions.
The economy is slated to strengthen and continue on its recovery. There's increased demand from the affluent groups, who are always looking for hedge against rising inflation. The rising land costs are associated with increased prices for land, construction, labour and materials. All of these factors, along with higher land cost from Government Land Sale (GLS) and En Bloc sales all point to sustained growth for the private property market.