For HDB upgraders, gone are the days where the focal point was on the next new development in the most coveted location. Executive condominiums have gained the badge of honour and carrying as much prestige. Besides the aspiration of being a private property owner, it makes a lot more financial sense to consider an EC these days with the rising interest rates and heightened macroeconomic uncertainty. Data doesn't lie, as it's truly evidenced by the robust take-up of the
639-unit Copen Grand in Tengah
and the
618-unit Tenet in Tampines
at their launch dates. Needless to say, this isn't surprising at all with private condominiums starting at $2000 PSF in the OCR area currently. Most Singaporeans certainly feel the brunt, hence ECs would be an excellent head start for upgraders to live & own in an appreciating asset. With the recent launch of Tenet in Tampines, 93% of the units are sold with a launch price of $13xx PSF indicating the robust uptake of ECs. Also, the gap between t
he prices of new ECs and new condominiums has also widened to an average of $700 psf
which further explains the strong interest for ECs. Furthermore, the resilient and unwavering demand for ECs is substantiated by the high capital gains observed in the transactions made from Y2Y 2018 – 2022. The units that have just recently met the Minimum Occupation Period (MOP) units reported experiencing the most healthy increase of 36.4% in average PSF prices from 2018 – 2022.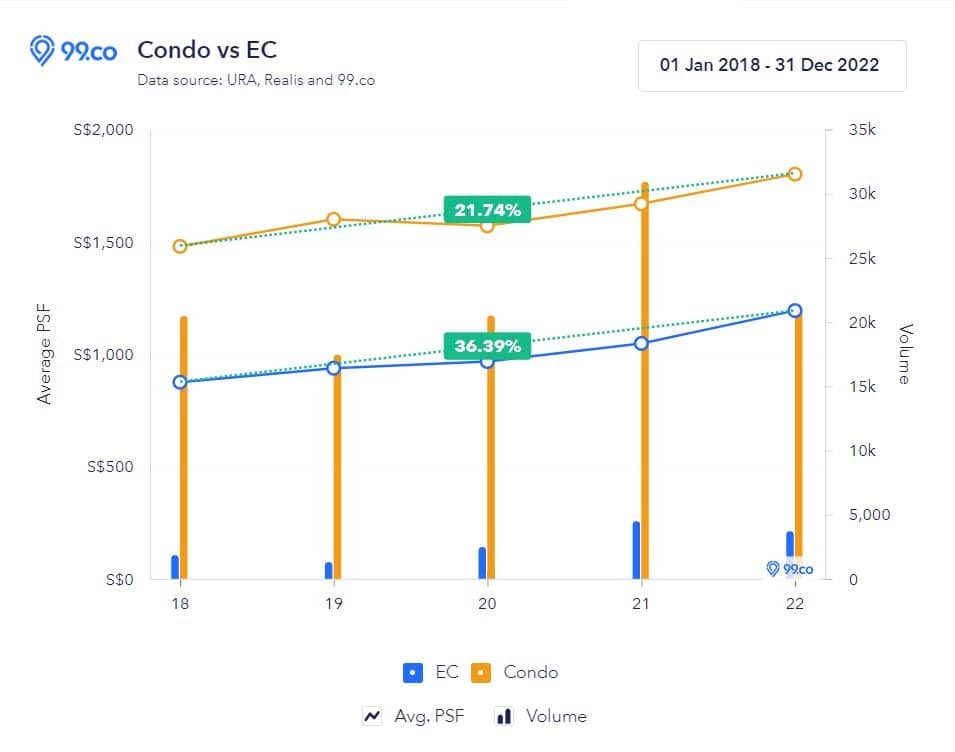 What Are The Pros Of Buying An EC
As indicated above, the entry price of an EC is a lot more manageable for a younger home buyer or a younger family. This tends to fit the demographics for most HDB upgraders whose units just hit the MOP.
In terms of asset appreciation, the EC is similar to a Build-to-Order (BTO) where there's a higher probability for capital gains in due time, thanks to the early mover advantage.
As with most new developments, most of the renovations and fixtures in an EC are brand new. Kitchen, bathrooms, tiling, air conditioners, and wardrobes are brand spanking new upon TOP as well. This certainly helps to defray a lot of upfront costs when acquiring the new home and less hassle or stress except to install lights!
With "condo-like" facilities and amenities, young couples with kids will enjoy an enclosed and safe environment for their children to play in. When parents are at work, it's reassuring to know that their children have access to a playground, waterplay, swimming pool, or a lawn area for pets and other activities.
ECs are a hybrid of private and public housing built by private developers, but sold at lower prices compared with private condos. As such, ECs appeal as a great entry point for most couples who are keen to invest in low risk and potentially high returns asset in a relatively short time frame (i.e. approximately 5-10 years upon TOP).
Flexible payment schemes such as Progressive Payment Scheme and Deferred Payment Scheme are readily available to cater for buyers who might need some flexibility in making their payments. Also for those opting for the latter, they can also avoid the current high interest rate environment. Last but not least, HDB upgraders need not pay the Additional Buyer's Stamp Duty (ABSD) upfront, thus, this avoids the need to sell their flat and look for another place to stay. This is indeed a major plus point!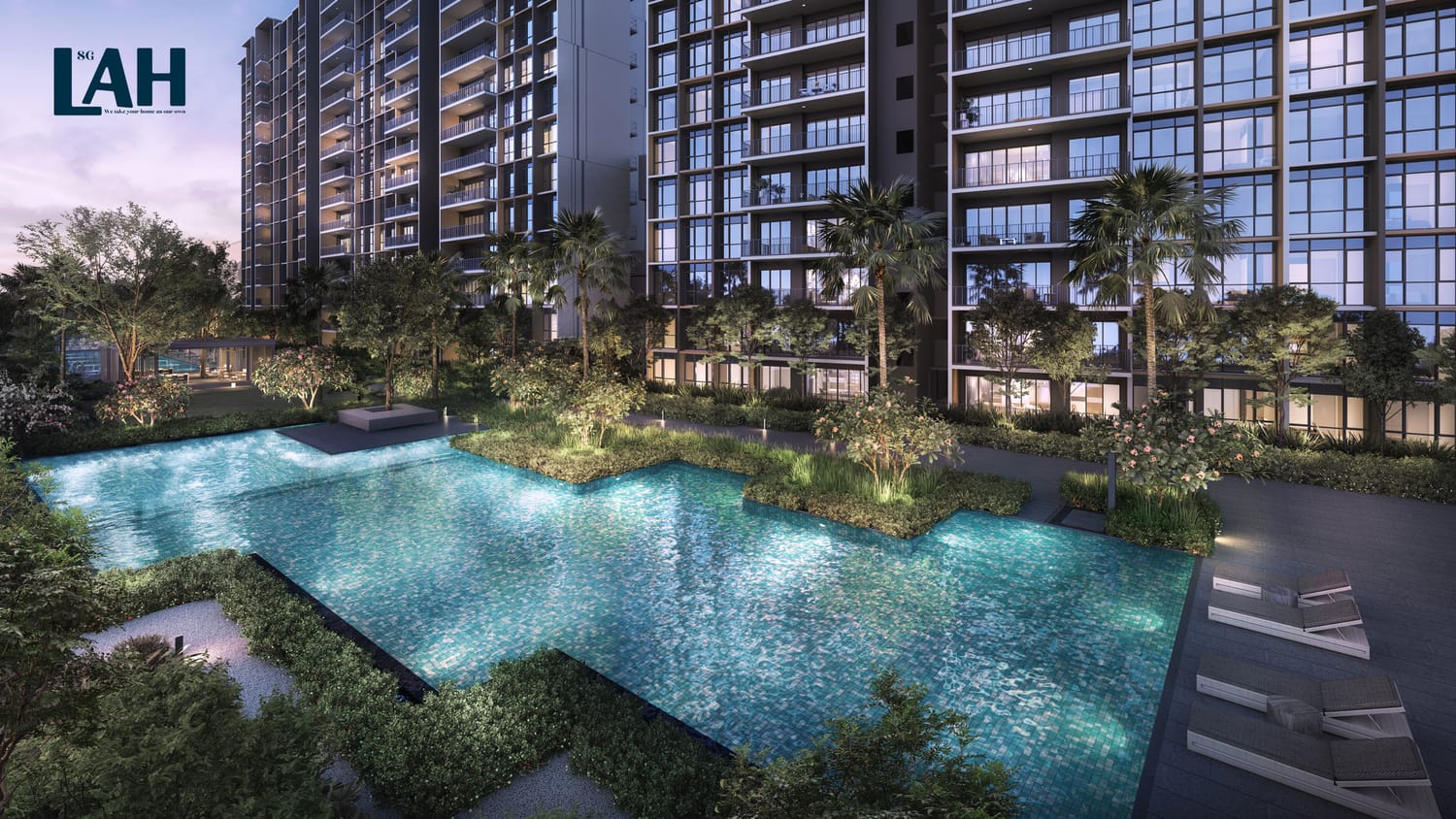 What Are The Cons Of Buying An EC
As the aforementioned highlighted the many perks of buying an EC, there are some cons that potential buyers might want to take note of. Buying an EC is an excellent stepping stone for most HDB upgraders, but there are definitely some downsides to it as well. In the grand scheme of things, the investment timeline for ECs is a lot longer than the private property market. There's a long waiting period involved due to balloting and the construction. The MOP of 5 years needs to be fulfilled before it can be resold in the open market as Partial Privatized. Furthermore, in order for it to be sold as fully privatized, one needs to wait for 10 years from TOP.
Some folks may find that the building materials and construction might be subpar and shoddy, so it could be susceptible to wear and tear faster.
Despite the various payment schemes available, an EC buyer does need to make a downpayment of 20%. This can be hefty for first time home buyers as most don't have sufficient cash. For most young couples who just started working, they may not have adequate CPF monies stashed away. For most, this is a very stressful decision, as the majority would need to exhaust all of their savings to make this biggest purchase of their lives.
EC launches are few and far between – typically only once or twice a year. Therefore, the selection is limited without a lot of availability as well. Most EC buyers would also need to consider a unit in a not so desired location, or a location far from their current home/parents/work place.
Due to the lack of selection or availability, some ECs may be facing major expressways or other HDB blocks which contributes to noise and lack of privacy, which might even affect future resale value as well. However, due to the high demand and low supply of ECs, many EC buyers may feel the brunt of "FOMO" pressure to buy whatever that's available fast. This can potentially result in impulse buying, which is never a good thing when it comes to buying your property.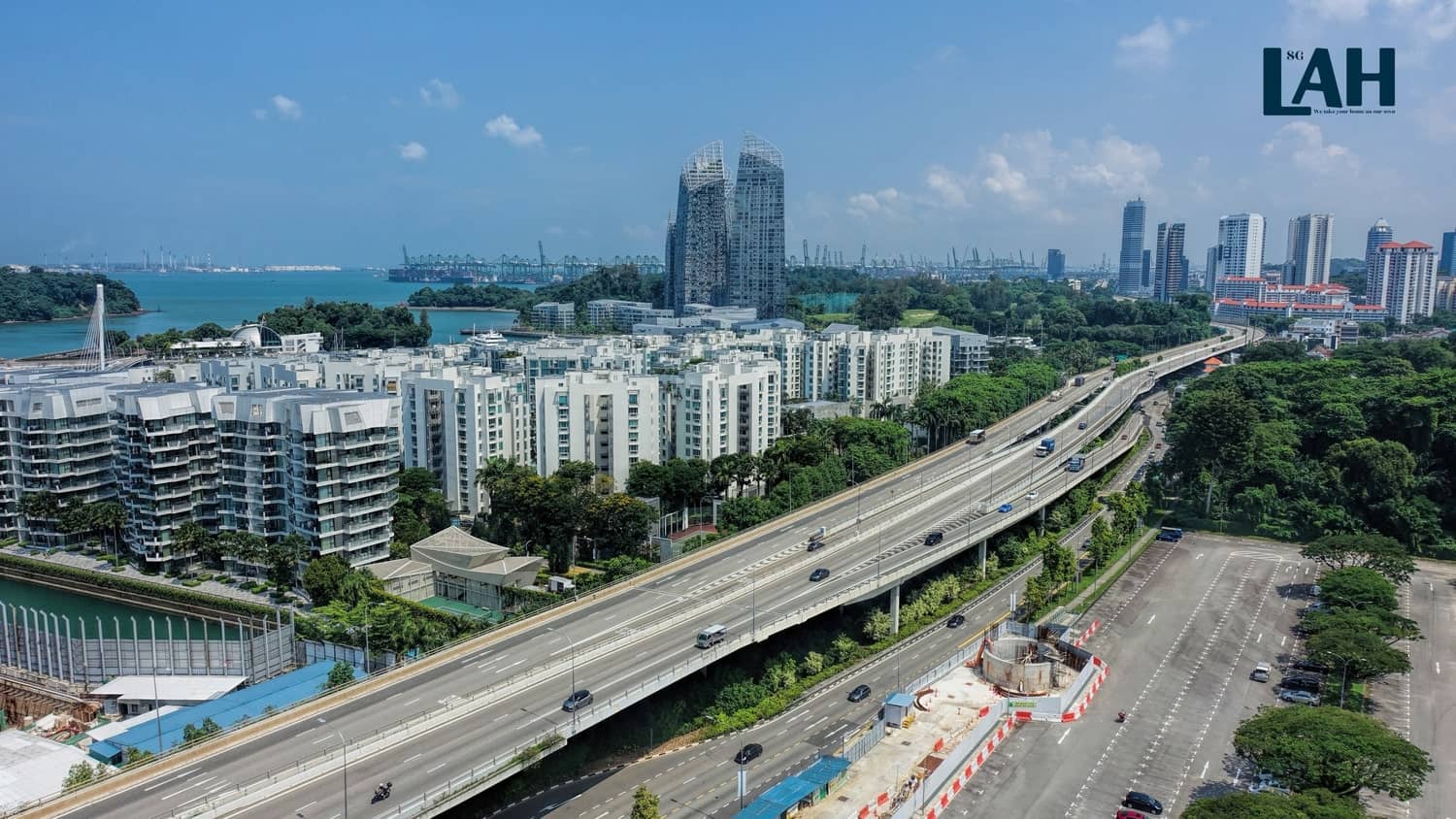 An EC Is Not A One Size Fits All Option
When it comes to Asset Progression, buying an EC is a safe, appealing and low risk option for upgrading. It's still a robust and practical asset to invest for a high potential for capital gains down the line. Nevertheless, it's not a one size fits all option as it depends on your risk appetite, anticipated timeline, availability of cash for down payment, preferred locale, along with many other factors. As a real estate advisor, I would love to help you strategize and plan if you're considering an EC for your next asset. Contact me at Live A Home SG. You can also follow us for the latest property news and updates, including topics related to Legacy Planning for Families!